Lenexa Cabinet Refinishing
Rejuvenating your kitchen and bathroom cabinets does not need to be a financial burden. With Sash Group's professional Lenexa cabinet refinishing services, you can have fresh cabinets while saving up to 80% of the cost of buying new units.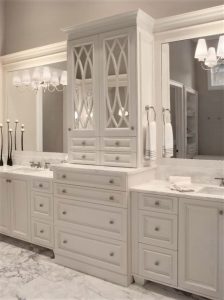 Wanting to renovate the amenities of a kitchen or a bathroom is commonly motivated either by damage repair needs or the desire to have a newly updated interior style. Home remodeling packages are known to be financially demanding, but there are amazing ways to update and enhance the aesthetics and functionality of your cabinets without spending too much. With Sash Group's highly experienced home improvement experts by your side, your cabinets can be repainted, refinished, have their doors replaced with new units, adjusted in layout, upgraded with organizational features, or installed with new hardware. These top-quality services that we provide offer a fresh new start for your cabinets without the budget typically associated with a traditional renovation package.
Aside from working on your cabinets, additional accessories such as replacement countertops and backsplashes can be added. We can also update your kitchen islands, pantries, and nooks for a full-room revitalization. We are excited to show you exactly how these upgrades can happen. Tell us what customizations, arrangements, and budget you have in mind, and we'll deliver them at professional quality.
Sash Group is more than a team of construction workers and painters. We are specialists in cabinet refinishing and industry-quality home renovations. We put great attention to detail and strictly follow standards in working with kitchen and bathroom surfaces. We are the Lenexa, KS cabinet refinishing company that you can trust.
Call Sash Group at (913) 355-6311 for your Free Consultation with a Lenexa Cabinet Refinishing expert!
Painting, Refacing, or Replacement?
One of the best ways to bring back life into your kitchen or bathroom is to update your cabinets' design, arrangement, or features. And with a professional home improvement team by your side, you can have a long list of amazing options.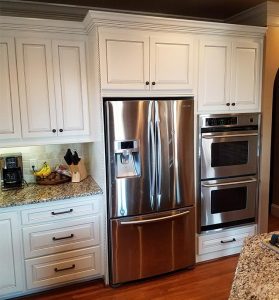 Replacing cabinets and full renovation projects are a common recommendation of many home improvement companies.
These options are great for cabinet units that need an entire transformation package due to damage or old age. But for homeowners who still have their cabinets intact and functional, replacements may be too unnecessarily expensive. Redesigning through refinishing and refacing may be the optimum choice.
Let us help you figure out the home improvement services that will best match your preferences and budget. Our experts are one call away, always ready to discuss your needs with you.
Cabinet Replacement
A full-on cabinet replacement package, typically on the more expensive side of renovation services, would be great if you need brand new quality of cabinetry. This would give you the opportunity to have a complete reworking of your storage areas. If your cabinets are dysfunctional, outdated, or extensively damaged, replacement also seems to be the best option for you. You can also choose to rework the layout of your cabinetry and add the new cabinet units you have along with every accessory you want to include.
Cabinet Redooring/Refacing
If the layout is not a problem for you and your cabinets are far from being worn out and damaged, you can have a much wider range of improvement options that will help you save more funds than replacement packages.
Cabinet refacing is one of the best options you can choose. It involves keeping the original boxes and layout of the cabinets and replacing or refinishing the hardware and doors.
If your cabinets have small damages like chips, dents, or scratches, refacing would be an excellent choice for you as the cabinet structures would still be strong. With the large variety of finishes, designs, and materials available, you can have a fully personalized style for your newly refaced cabinets. Just tell us your intended budget and every design preference you have, and we'll work with them accordingly.
Cabinet Painting
Cabinet painting is a customer favorite among our home improvement services because of its affordability and customization varieties. Sash Group has a full set of state-of-the-art paint materials that can both beautify and protect the surface of your cabinets. Our highly trained experts are dedicated to perfecting the paint job on your cabinets at professional, industrial quality.
Repainting your cabinets gives you the chance to update the style of your interior. To improve the aesthetics and functionality of your storage, we can also add other elements, such as new pulls, backsplashes, countertops, and organizational accessories. With these few but high-quality tweaks, your cabinetry will look as good as a remodeled set without the typical hefty expenses.
With the many options you have for improving your cabinetry, we know that you will enjoy the help of our experts. Our home improvement specialists are always ready to hear about your situation and recommend the best solutions they can come up with to achieve the style and functionality you are looking for.
Professional Kitchen Renovation
The kitchen is the one room that most homeowners think about first when they plan their home improvement projects. If your cabinets have discolorations or peeling, or if they are outdated in style, and you want to follow the latest interior design trends, Sash Group has all the expertise and equipment needed to provide the high-quality cabinet renovation services you need.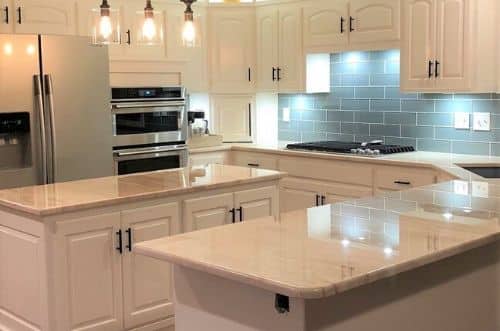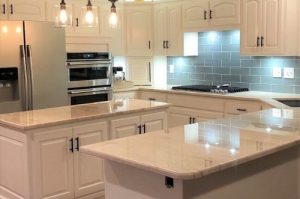 With a leading Lenexa cabinet refinishing company by your side, your kitchen and bathroom cabinets and storage spaces can have a spectacular transformation in visual quality and functionality without the financial burden that full renovation projects demand.
Refinishing and refacing may not provide you with brand new units. But if your structures are well maintained, there is no need to purchase new cabinets, especially if our refinishing package can upgrade, brighten up, and optimize the spacing of your cabinets. You can add all the accessories you want, from updated drawer pulls and cabinet handles to all the hardware upgrades that can provide a brand new look to your set.
If you don't want changes done to your cabinets' layout, but you want to improve their functionality, we also have solutions for you. We can add organizing accessories and features to your current set. Your countertops and backsplashes can also be included in the update for completely polished cabinetry that improves your way of life.
Professional Bathroom Refinishing
After the kitchen, the bathroom is the next most popular room that home renovators love to improve. With Sash Group as your Lenexa cabinet refinishing company, you can also have a wide range of repackaging options for your bathroom storage.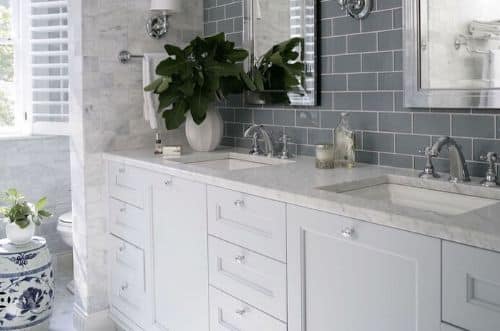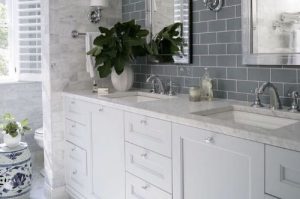 Bathrooms can also greatly benefit from an upgrade in functionality as much as one in aesthetics. We can provide your tub area or shower room with structural upgrades like organization accessories and high-quality paint jobs to significantly enhance its functionality and attractiveness, which in turn will improve your personal experience whenever you use your bathroom.
Redooring, and repainting or refinishing the doors of your cabinets are also available at Sash Group. This is the optimal choice for homeowners that want to restore their slightly aged or slightly damaged yet still structurally sturdy cabinets. You can have choices of natural wood finishing, painted finishing, and other elegant options.
If you are uncertain about the many different options available, don't worry. Our experts are always ready to help you understand the various services we provide.
Cabinet Organizers & Accessories
Visual appeal is crucial in interior design, but so is functionality. With top-quality cabinet organizers and accessories, you can improve the way you use your storage. These improvements can be applied to both the bathroom and kitchen cabinets, bettering the quality of life of your family. You can choose among a wide array of features to add, including drawer organizers for kitchen utensils, pull-out sliders for trash cans, and lazy susans for easier access and distribution of food.
With storage and spaces upgraded in functionality, your life is also improved. You will spend less time moving around and doing work. You will be able to focus on the things that matter the most, which is spending time with your family.
Lenexa Cabinet Company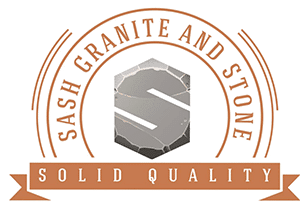 Improving your life quality through better cabinetry and amenities requires professional skills from experts. Get a company you can trust. Get Sash Group as your Lenexa cabinet refinishing partner. We deliver all our products and services for the best prices you can find in the market. Our workmanship and professionalism are top-notch. You will not regret partnering with us for all your home improvement needs. We are here to help you turn your kitchen and bathroom renovation dreams into reality, starting with industry-quality cabinet products and improvement services.
Our experts are always ready to provide you with recommendations. So give us a call today so we can work on your kitchen and bathroom cabinets as soon as possible.
Call Sash Group at (913) 355-6311 for your Free Consultation with a Lenexa Cabinet Refinishing expert!