Lenexa Natural Stone Countertop Installation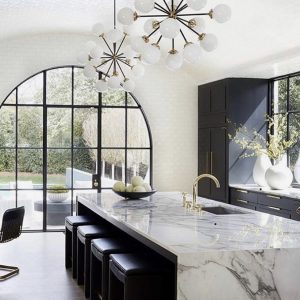 Everyone dreams of a clean and beautiful kitchen. Having your countertop fixed with full effort and expertise is undeniably a wise decision. Your countertop is a significant part of your kitchen, which is easily noticed, so it's best to make it presentable and remarkable.
Here at Sash Group, we provide sophistication carved from the hands of the Earth. If you are concerned about the environment while wanting a modern house (or at least a kitchen), we will give you the materials made from non-renewable resources. Mother Nature herself gives birth to the stones that will last a lifetime.
The countertop you will have is unique since no natural stones are alike. The particular design and pattern we furnish are distinct from others. All these you will attain at an affordable and a comparable price to synthetic countertop materials.
Also, our Lenexa team has the talent, skills, and eye equally as natural as the stones we deliver. From quality products to commendable service, there's no reason for you not to work with us for your countertop installation.
Contact Sash Group at (913) 355-6311, and let's begin discussing which part of the Earth we will hollow out.
Decide on Your Earth Stone
To satisfy your standards, you may have a hard time choosing the right natural stone for your countertop. Criteria in selecting the perfect natural stone countertop include durability, beauty, and resistance. Our team is prepared to answer every question you throw, but the following list of natural stones may help you pick ahead of time:
Stone of Illumination and Durability: GRANITE
This natural stone is ideal for your kitchen workplace due to its spotted, sparkling appearance, and tough and durable characteristics. Granite, being hard, igneous rock, will last for many years so that it won't require frequent repairs. We even have over a hundred colors and variety of textures available that are perfect for your dream kitchen.
Stone of Resistance and Beauty: MARBLE
Years in the business made us witness the high demand for this type of natural stone. Its veined patterns and high polish are fit for countertop aesthetics and elegance. Marble is made up of a crystallized stone molded from intense heat and pressure. It is heat resistant and can be sealed to resist stains and scratches. We will be able to install this on your countertop with several colors as well.
Stone of Resilience and Solidity: QUARTZITE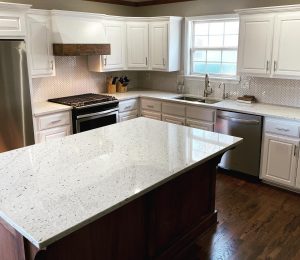 This material is a combination of sandstone and quartz that have gone through extensive heat and pressure. The process turned the rocks hard and solid suited for your busy countertop. Quartzite is even harder than granite and less likely to stain than marble. The latter property is due to its lesser porosity, so it is best if you desire a countertop that doesn't need high maintenance. Your color selections vary among grey, black, green, blue, or white.
Stones of Comfort and Tranquillity: LIMESTONE
History tells us how long limestone has been used in many known architecture and landmarks all over the world. Now, you can bring history right at your countertop! This natural stone is a sedimentary rock composed generally of calcium carbonates. Although limestone is commonly pure white, we offer you color variations like brown, gray, red, beige, and other neutral colors apt for relaxation. Get comforted just by looking at your countertop!
Stone of Density and Adaptability: SOAPSTONE
The name of this stone is derived from the fact that when you rub your countertop, you feel the softness of dry soap. It is a metamorphic rock comprised of talc. With this, we will give you a countertop tested by science and specifically studied through its density and non-porousness. Due to these two, it doesn't stain, can stand up acidic compounds, and is heat resistant. It adapts to some chemicals and to the changes that come to it. If you want to achieve a rustic and old fashioned countertop, this is your ideal choice.
Whichever you may choose, the end-product is certainly substantial. All the natural stones can be polished anyway and can be enhanced to a more endearing appearance. Truly, the work of nature is incomparable and can be raised to magnificence when touched by human hands. Our hands are the best you can hold!
Masters of Natural Stone Countertop Installation in Lenexa
Rely on our team, who is qualified and experience-based experts on countertop installation. We have been trustworthy in arranging requests, supplying materials and services, and sticking up to the lightest maintenance of your countertop. You will never regret choosing our hands to sculpt the beauty and permanence you want and need.
For years, we have completely recognized the details of natural stone countertop installation and even the common pursuit of our clients. You don't even have to worry if you have to start at nothing on what you want. We can provide suggestions and consultations prior to the official business procedure.
Sash Group is equipped to fulfill all your interests, even the slightest. We ensure that you will be given the finest work in our selection. We will design, fabricate, and install your countertop at a price you are not compromised. Our past customers have praised our excellent system in cutting and bundling slabs, and we are confident that you will, too!
'Rock' with Us!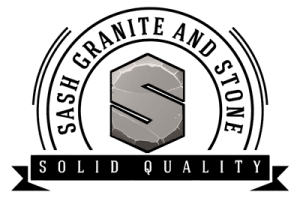 Our Lenexa, KS installers and the whole team work professionally to finish everything required. With us, you can arrange the duration of installation the way you wish. Our layout artists will consider your choices during the process, and until the final step, our trained experts will always hear your requests.
Contact Sash Group at (913) 355-6311, and let's begin discussing which part of the Earth we will hollow out now.