Kitchen Remodel
Make your kitchen attractive, functional, and better suited to your lifestyle with the support of our Kansas City kitchen remodel experts at Sash Group! A complete kitchen remodeling provider, we offer high-quality countertops, custom cabinetry, backsplash installation, and custom storage solutions to create a comfortable and inviting space that works for you.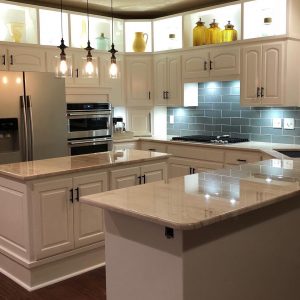 Warm and inviting, clean and modern, or funky and totally original, we create statement kitchens that truly serve as the heart of the home. Our experts deliver smart recommendations for layout, materials, and finishing touches to ensure your new kitchen is exactly as you envisioned. We know aesthetics are only part of the remodel process; you also want a kitchen that is highly organized and intuitive, making cooking and entertaining a fun, fast, and enjoyable task.
From cabinet refinishing to complete kitchen remodels, we provide the level of service that you desire. Want to create an island, add a bar, install new upper cabinets, or incorporate hidden storage elements? As truly full-service providers, we are able to assist with kitchen design, product selection, installation, and finishing so that you are left with the brand new kitchen you have always dreamed of.
Call Sash Group at 913-235-2697 for a Free Consultation!
Kitchen Cabinet Replacement & Refinishing
Dirt, grease, cleaning chemicals, accidents, and even just regular use can degrade the finish of your cabinets, or even damage them to the point that replacement is needed.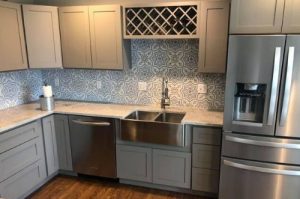 If you desire or require new kitchen cabinets or would like to have your existing cabinetry refinished or refaced, Sash Group has the right solutions for you. We can layout and install new cabinetry elements, replace or repair damaged elements, or even refinish your existing cabinetry.
One of the main reasons why a Kansas City, KS homeowner may invest in a kitchen remodel is because they are unsatisfied with the layout of their cabinets, or with the lack of storage and counter space they provide. We recommend smart feature additions such as hidden wastebaskets, integrated lazy susans, silverware dividers, and slide-out shelves, in addition to our layout and kitchen design services.




We provide many different finishes, designs, and styles for your cabinetry, and would love to help you realize your dream kitchen. Our experts can come to you, or you can visit our local showroom for inspiration and support.
Kitchen Countertop Installation
Having an attractive, clean surface to prepare your meals means making dinner is both more enjoyable and safer. Old or damaged countertops can hold harmful bacteria and dirt, or can just look unattractive. Our kitchen countertop experts provide many smart solutions that are both appealing and safe choices for your next kitchen renovation project.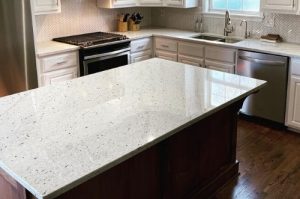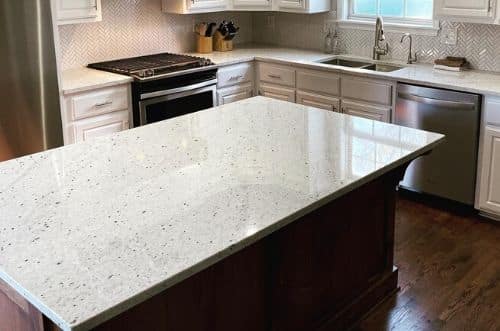 Natural stone countertops are attractive, durable, and desirable, making them a smart addition to any kitchen remodel. With the classic and timeless appeal that only nature can create, we provide surfaces that are resistant to heat, bacteria, and scratches, as well as stains. Our countertop experts help you choose the right type of stone and finish for your unique needs and style.
We have a full selection of marble, quartzite, soapstone, and granite slabs available for viewing on-site. This means that you can select the actual piece of granite that you want for your home counters, instead of just choosing from samples that may end up bearing only a slight resemblance to the stone that is installed. We help you realize your dream countertops faster and with greater consistency in the finished product than with other providers.
Visit Our Design Showroom!
Do you want kitchen design assistance and inspiration, or are you curious about the many home remodeling options we deliver?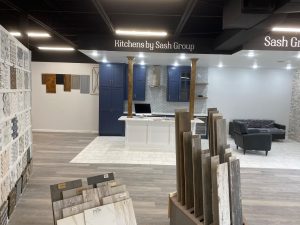 Our local remodeling showroom provides you to with access to our current and expansive inventory of kitchen remodeling products, including custom cabinetry, flooring, and natural stone countertops. Our dedicated, experienced, local Kansas City, KS kitchen remodel experts provide smart recommendations, assistance, and support, and are always available at our showroom to help.
You can not only view many of our remodel materials and gain access to our remodel professionals, we also have example projects set up in our showroom so you can truly envision your new space. If you need help determining the right products and solutions, you can work with one of our dedicated home and kitchen remodel professionals to determine the design, layout, and ideal products to suit your space and needs.
Let's Talk- Free Consultation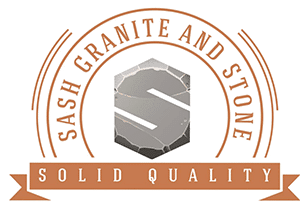 Our renovation experts provide attractive, modern, and creative kitchen remodel solutions to perfectly suit your home, needs, timeframe, and budget. Our dedicated Kansas City kitchen remodel experts provide complete project support, from assisting with product selection to the demolition of your old kitchen elements to installation and finishing of your brand new cabinetry and accessories, countertops, flooring, or any combination of these elements.
We are dedicated to creating appealing, comfortable, and intuitive kitchen designs that make entertaining and preparing meals for your family and friends faster, more convenient, safer, and simply more enjoyable.
Call Sash Group today at 913-235-2697 for your Free Consultation!